Award Winning Home Builder Turns 50 This Year!
22 May 2020
This year Chateau Architects and Builders' turned 50. Located in Castle Hill, the business was established by Hills resident Malcolm McDonald, to build quality custom designed homes and provide an alternative to project home builders.
The business is the epitome of the Australian success story - a story about hard work, family and doing the right thing.
Malcolm, new to the area in the late 1960's, saw large parcels of land being released but few builders in the area and having spotted an opportunity, was courageous enough to take it.
The multi award winning business is now run by sons Rod (Director of Architecture) and Alex (Director of Construction), both of whom live in the Hills district (pictured below). Malcolm, now in his 80's, remains involved in the business in an advisory capacity.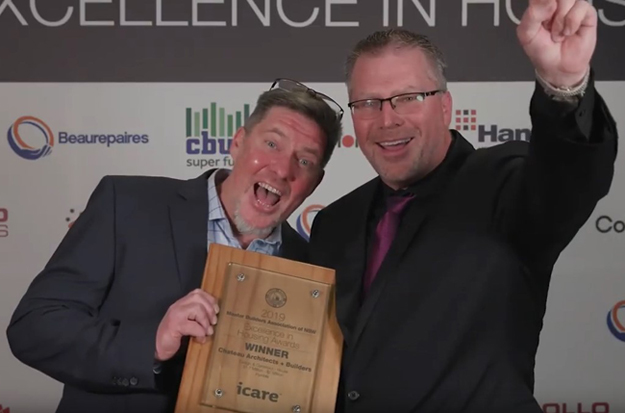 Chateau Architects + Builders As Industry Leaders
Unlike most custom home builders, Chateau is unusual in that qualified architects and master builders work together under one roof.
Architect Rod says "Using a separate architect and builder can create uncertainties and be difficult to manage.
"Our integrated process means cost efficiencies are explored early in the design stage and an accurate fixed price is determined right from the start".
The result - less pain and more peace of mind for clients!
Creating Custom Homes For Sydneysiders For Half A Century
This emphasis on caring for clients means over the last 50 years Chateau has not only survived but thrived, with 2019 being better than ever.
Last year Chateau won two prestigious MBA Awards, received runner up Master Builder of the Year, and was nominated as finalist for two HIA awards.

Article: '2019 NSW MBA Award Winners'
Article: 'What Type Of Home Builder Is Best For You?'
Article: 'Dovedale Estate - Your Dream Home in Sydney's Northwest'

Son Alex said "These awards are an affirmation of all Rod and I have strived for - to continue our fathers' legacy of building quality custom designed homes".
A legacy means leaving good things behind and by that measure, Chateau has succeeded. In an era of cookie cutter project houses, each and every home Chateau has built in the last 50 years is unique.
Architect Rod goes on to explain that, "because our clients are individuals, so are the homes we create for them. These are homes that are designed to enhance the lives of our clients and their families for years to come".

As Sydney's Leading Custom Home Builder We Are Always Looking To Improve
This year Chateau shows no signs of slowing down, embarking on its most ambitious project to date, the development of Dovedale Estate.
Dovedale Estate give clients a rare opportunity to purchase vacant land in the select suburb of Glenhaven and live in an architect designed home built with uncompromising quality.
Chateau Architects and Builders - creating homes that are designed for living and built to impress.
If you are researching for your new custom home build, we would love to help you get started. Contact our office on (02) 9634 6888 or send us an email at [email protected] and our friendly team will assist as best we can!