2019 NSW MBA Award Winners!
08 September 2019
Chateau Architects + Builders were proud to be attending the 2019 NSW MBA Housing and Pool Awards Night where the very best in residential construction is on display.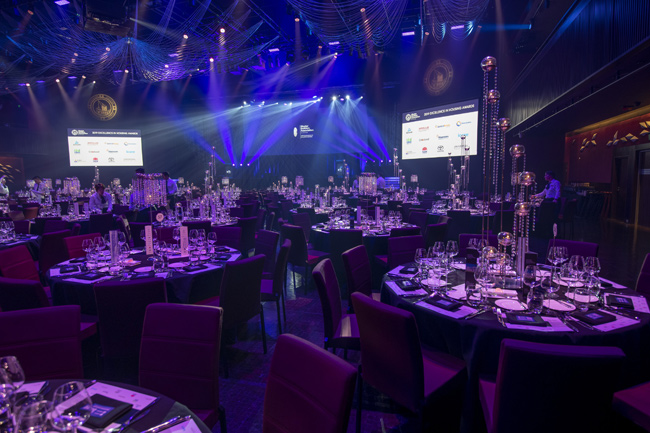 The Master Builders Association of NSW has award programs that represent the encouragement and promotion of excellence in construction, workmanship, innovation and dedication to the industry. This black tie event is one of the most prestigious of its kind in the residential building industry, and these particular awards is one of the industry's oldest.
The glitz and glamour of the awards' night attracted project home builders, contract builders, apartment constructors and builders specialising in additions, alterations and renovations from all over New South Wales - all jostling for top gong in their respective categories.
The MBA Awards were hosted at the The Star Event Centre in Pyrmont on Saturday night with Chateau being nominated as a finalist for a few of the higher-end categories. We filled a couple of tables in the hope of it being a memorable evening - and boy oh boy it was!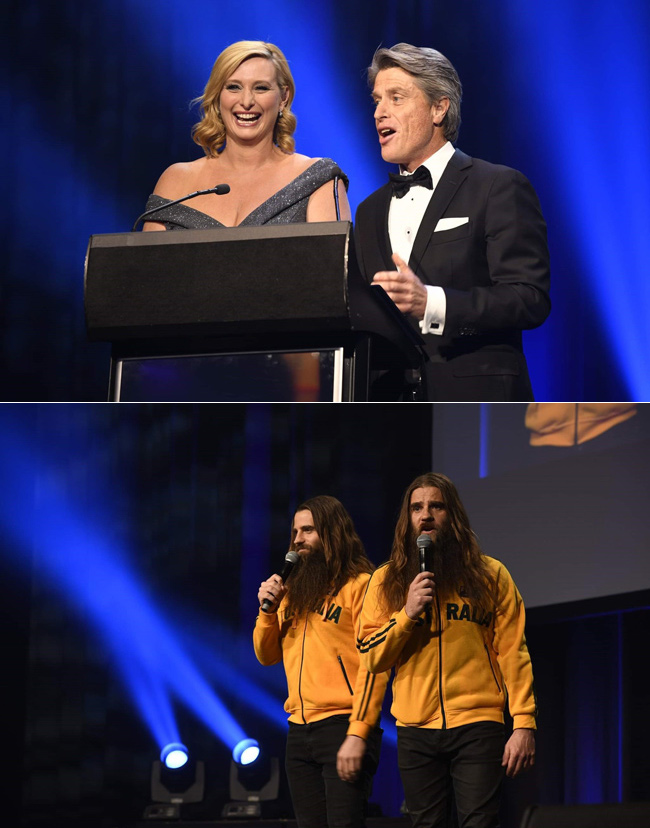 Compares Johanna Griggs and Peter Colquhoun were opening the evening with some entertaining stories from 'Better Homes and Gardens ' before introducing the 'Nelson Twins' for some unique stand-up comedy which included a lot of cheeky humour - much to our delight.
Despite the hilarity of the acts, we were still mighty nervous. You could see the McDonald family trying to "play it cool" but they weren't entirely relaxed, knowing that it could be a great night, or an even better one!
Fast forward a couple of hours and Chateau Architects + Builders were walking away with TWO WINS!
🏆 2019 'MBA Winner 🏆
'Design & Construct' - Pymble House

Here's what the MBA had to say:
"Chateau Architects + Builders has excelled in producing a fine example of a French Provincial home. The clients' inalterable budget proved no impediment to a truly beautiful home comprising of outstanding finishes and workmanship. A credit to Chateau."
🏆 2019 'MBA Winner 🏆
'Pool & Spa' - Oatlands House

Here's what the MBA had to say:
"This glass mosaic-tiled spa has two exposed external walls that face the basement entertainment rooms and have been tiled up and over externally as an integrated feature. The spa is a spectacular feature that was specifically designed to be viewed from inside and to create a strong connection with the home's internal areas. A beautiful result for The Other Side Landscapes and Chateau Architects + Builders."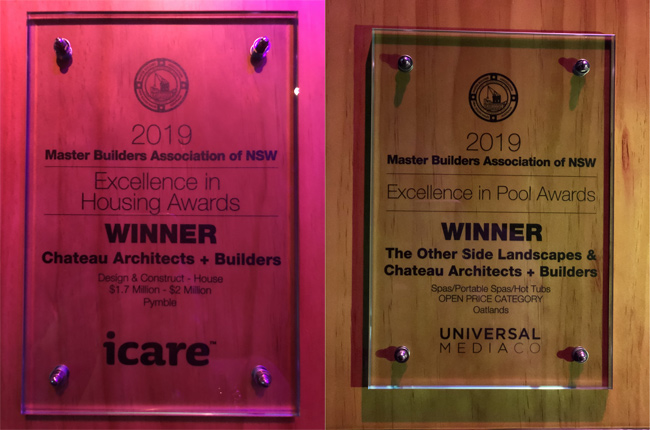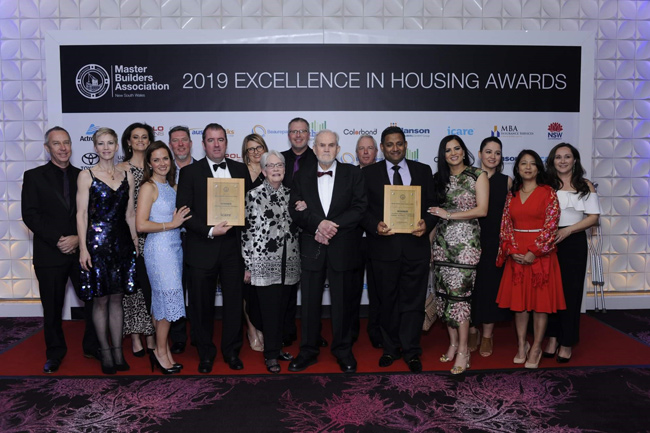 In addition to the two wins, we were also a FINALIST for the prestigious 'Master Builder of the Year Award'. If you want to see the results for yourself, click here for the 'Design + Construct' win and here for the 'Pool & Spa' win.
We need to thank many people who helped make this happen including the Master Builders Association, our amazing clients, our excellent contractors, reliable suppliers as well as the entire Chateau family.
Thank you everyone so much for your hard work and dedication to make everything come together!
If you want to catch up on the night, you can visit our gallery here. Feel free to watch our interview with MBA after winning our Design & Construct Award for our Pymble House with Directors, Roderick and Alex McDonald.