What Type Of Builder Is Best For You?
06 April 2022
We hear the words dream home so often that we probably never stop to think about what the words really mean. For us at Chateau Architects + Builders, a dream home is the project we work on with you, from first fledgling ideas, through the creative design process, to the completion of your individual, superior quality new home.
Our award-winning architect and building team will transform your unique vision of the home you have only dreamt about, into the custom designed, master built home where you raise your family, you create your memories or you retire in style and comfort.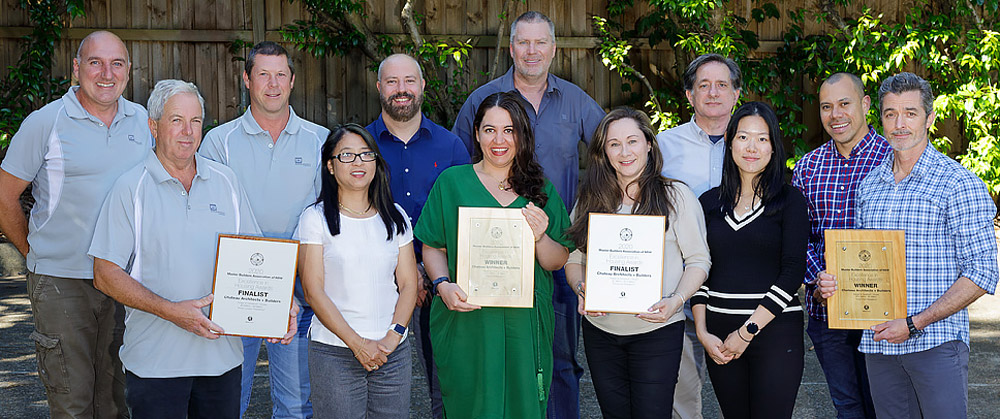 As a specialist architectural designer builder we provide a service to you, which is as unique as our magnificent homes.
We take away the complexity and cost of working with multiple agencies; instead, we provide an integrated service where we are the only point of contact: we work as one team, for one price, with one purpose - creating and building the home of your dreams .
OUR HISTORY
For over 51 years Chateau Architects + Builders has specialised in planning, designing, managing and building multi-award winning, prestige homes throughout Sydney's Hill's District, North Shore and Northern Beaches.
Established by Malcolm McDonald in 1970, the family continues to manage the business. Company Architect, Rod, and Director of Construction, Alex, have maintained their father's ideal of providing uncompromising family homes for the best value to the customer.
Let's compare the expert services we provide with other types of residential homebuilders.
The facts will speak for themselves.
Project Home Builders
• This is the quickest and cheapest form of building a new home.
• Projects are pre-designed, usually by a major development company.
• There is little input from you as the project is marketed as a package.
• The houses are often part of a new estate or development.
• The same designs are found throughout the area creating a particular 'look'.
• The houses are built quickly on land that has already been prepared and approved.
Architect and Independent Builder
• This is the most expensive way to build a home.
• Multiple stakeholders need to be paid, thus adding to your overall costs.
• You select an architect to complete the design. You pay the architect on completion.
• You take the design to a builder who may need to adjust the plans to facilitate the build. You pay for the redesign.
• The builder completes the build. You pay the builder and all associated costs.
• There are multiple points of contact. This is time consuming and can lead to unnecessary complications and added expenses.
Architectural Designer Builder (Chateau)
• This is the most cost effective way to build a superior quality, custom designed home to your exact specifications.
• The architects and builders in the company work together as one creative design and construction team.
• You, the customer, are an integral part of the design process. Your needs are our highest priority.
• Each house we design is unique.
• Each house is designed by an architect; an expert in the field. The design is customised to your individual needs, your individual vision.
• The building journey is streamlined to maximise efficiency and minimise expense:
- One architect and building team
- One thoroughly investigated and approved design
- One set price determined after the design has been completed
• The entire building process is completed in-house.
• You save time, eliminate your stress and most importantly, achieve best value for your money.
WHAT MAKES US BEST VALUE?
You have considered many factors in deciding to build your own individually custom designed property, but identifying the potential cost of the project has probably been the most complicated aspect.
The overall cost of designing and building your unique dwelling can be hidden in the volume of information from each stakeholder you deal with. This is where choosing Chateau as your luxury homebuilder becomes your wisest move.
Our in-house, fully inclusive process allows us to establish one price for the entire project. No hidden costs.
WHY SHOULD YOU TRUST CHATEAU ARCHITECTS + BUILDERS?
In any relationship, trust is the most important factor for success.
Our impressive reputation, our recognition by industry experts and our excellent testimonials from clients will reassure you that your trust in Chateau will reap many rewards.
Industry Awards
Chateau Architects and Builders has been recognised many times for excellence in design and building. See our Awards page for a complete summary.

• Multiple Master Builders Association (MBA) Awards
- Design & Construct NSW Award Winner 2020, 2019, 2015
- Design & Construct NSW Award Winner 2019
- Design & Construct NSW Award Winner 2015
- Design & Construct NSW Award Winner 2013
- Finalist NSW 2020, 2019, 2016 & 2013

• Multiple Housing Industry Australia (HIA) Awards
- Best Custom Built Home NSW Finalist 2016
- Winner Design and Construct NSW $4m+ 2015
- Finalist National Custom Built Home 2014
- Winner HIA NSW Home of the Year 2013
WHAT SERVICES CAN I EXPECT FROM AN ARCHITECTURAL DESIGNER BUILDER LIKE CHATEAU?
• We begin all our work with site-specific first principles. Our quantity surveyors provide accurate details about all features of the building site.
• One of our expert architects will custom design your home.
• One of our trusted master homebuilders will manage the build from beginning to completion.
• Our highly skilled team of contractors will ensure that the build meets all industry standards, and that it is completed to the highest level of quality and precision.
• Our creative interior designers will collaborate with you to develop the optimal look for your taste and style.
• Our experienced suppliers will source and provide exceptional quality materials for all aspects of the build.
FAQ's
• There are many building companies, exactly why should I choose Chateau Architects and Builders?

There are many reasons for you to choose Chateau to undertake such an important process, here are some of them:

- We have over 50 years experience in a highly competitive and complex industry.
- We are recognised by the major industry associations as experts in designing and building prestige homes.
- Each of the houses we create is unique, superior quality and displays outstanding design and building features.
- We do not limit our designs to one particular style.
- We offer an integrated service starting with customised design and culminating in a luxury build: one company, one team, one purpose.
- Our efficient in-house architect design and building practice results in cost effective pricing.
- Our knowledge of The Hill's District, North Shore and Northern Beaches is extensive. We understand the character of the regions, the council requirements and the particular landscape of the areas.

• If I already have plans, do I need to have them redrawn for Chateau?
No, you don't. However, as architectural designer builders, the team at Chateau may need to review the plans and adjust them to ensure that they meet the high standards of the company.

• Do you build additions or extensions to existing homes?
No. We specialise in individually designed, luxury homes from inception to completion. We envisage and create an entire project. This ensures a cohesive, strategic and precision-focused build.

• If there is an existing dwelling on the site, do you manage the demolition process?
Yes. We project manage the entire process from demolition, to design and rebuild. (Link Turramurra House 2)
• Are there any hidden costs?
There are no hidden costs. Once you and the architect have agreed on the final design the cost is then determined. This cost is inclusive of all aspects of the build.
OUR WONDERFUL CLIENTS KNOW BEST

Our clients are our best advocates. Their testimonials are genuine and we promise you these are real customers speaking of their real experiences.
Have a look at the videos and see what you think.
Turramurra House 2
The owners of this contemporary home on Sydney's North Shore had outgrown their previous Chateau designed and built house.
After seeing what was on the market, it became clear that there was little to compare to the finesse that Chateau brought to a project. The clients bought land and consulted Chateau for their new design and build journey.
Their experience, in their own words, was 'stress free' and 'enjoyable'. Their new home is elegant and spacious. It is light-filled and welcoming. The expansive interiors glide seamlessly into the outdoor entertainment area.
As a bespoke suburban family dwelling, it consciously avoids being showy, yet it exudes class and style. It is unmistakeably architect designed, built to exacting standards.
See what Kirsty has to say about her experience with Chateau.
Mosman House 2
This house was originally designed by an independent architect.
Kathy selected Chateau to build from those plans after talking to many other building companies. Negotiating a complex block of land was a critical issue.
The completed home is contemporary and stylish. Superbly crafted to maximise flow and space, the owners could not be more glowing in their praise for the professionalism, efficiency and expertise of Chateau.
CONTACT CHATEAU ARCHITECTS + BUILDERS TODAY!
Established in 1970, 'Chateau Architects + Builders' is the alternative to the traditional model of bespoke home creation.

Chateau's residential architects, cost consultants and builders work collaboratively through every stage of a project's development, a fully integrated service which puts us ahead of the regular home builder by some distance!