Seaforth House: Part II
06 February 2019

There are many, many quotes out there based on the idea that when you overcome a challenge or obstacle then the reward is greater. That is no different here for our feature-packed master build in the leafy Northern Beaches suburb of Seaforth. Unwelcomed hurdles slowed down our build process before we could even have the foundations laid, the site was disrupted with the 'worst' wet season Sydney had seen in years.
The Challenges of the Weather
We begin by providing you with some weather-related context to make this build much more special. Sydney's Northern Beaches experienced record-breaking rainfall for the year, so we had thought the worst of it had passed. Sydney had the wettest autumn for over a decade, which is great for nature, not so good when you're trying to start the build of a beautiful new custom home!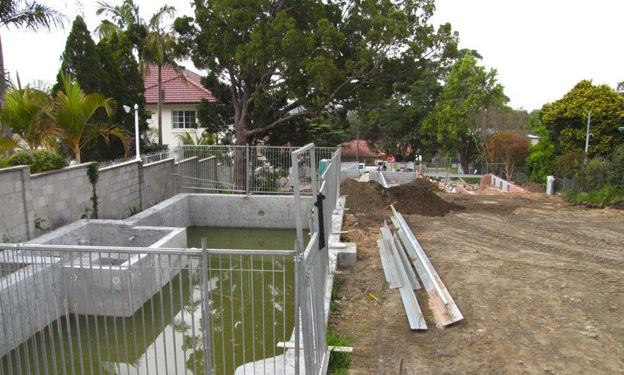 This weather challenge made it all the more difficult for this particular project since the 'smart design' included a level below the ground level so we could accommodate all the features included in the architectural plans.
Since the lower level was so low, any rainfall within the bounds of the property and surrounds would drain into that bottom level space. Any chance there was a break in the rainy weather, we used anything we could do to dry the space and move forward in the short relief we had!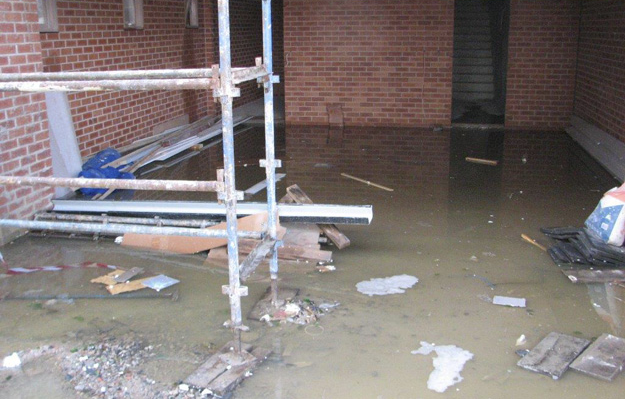 With the clients wanting to move in as soon as possible, this was mighty frustrating for the future homeowners.
Fortunately, we pushed ahead as soon as we could and managed to - much to our clients' surprise - finish this amazing Seaforth home by the original deadline! This can be put down to the efficiencies of the unique Chateau Building Process that we've had in place for any luxury home build that we manage in the past.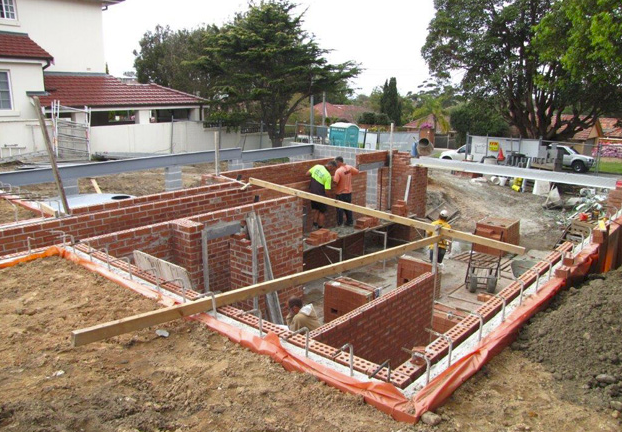 Solid Foundations for a Solid Home
After the three month delay due to the unforeseen weather mentioned above, we are excited to move onto the foundations of the home.
As you can see below, the sturdy foundations for the designer home contain reinforced steel mesh sheets and reinforced bars, these are sitting on waffle pods.
Waffle pods are a modern way of laying a concrete slab. They allow for more accuracy of concrete specifications, reduces waste and provides a significant boost to site efficiency, everything you would expect when building a prestige home.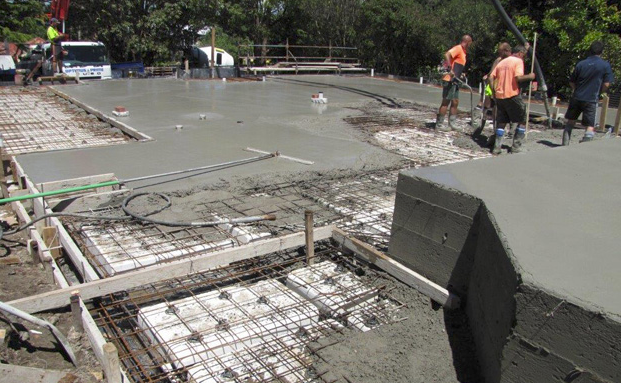 Seeing as the build will be a two (and a half) storey home with full double brick walls, tiled roofing as well as large load-bearing concrete columns, the foundations must be made to last.
On-Site Safety Precautions
When building a custom multi-storey home, we need to ensure maximum safety to minimise the risk of injury which is why we follow set procedures when erecting scaffolding, particularly around an internal residential staircase.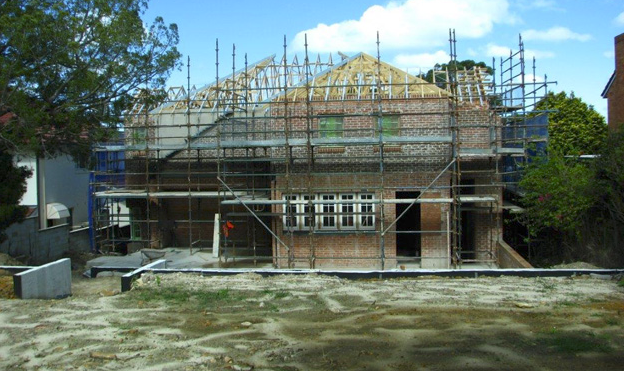 We now turn to the street-facing façade. With all external brickwork, top floor trusses and top level roof tiles coming to an end, we can put focus into the rendering and painting of other external surfaces.
What is Hamptons Style Architecture?
In recent years the Hamptons style has become more and more popular in Australia due to its comfortable and laid-back, beachy vibe style. The fresh palette of light whites, natural textures, ocean inspired blues and white timber finishes works beautifully, particularly in coastal regions such as, the Northern Beaches of Sydney.
The style is inspired by the upstate New York holiday homes where they show off their seaside style with relaxed, coastal whites inside and out. The classic Hamptons style also have generous number of reclining sofas, spacious island benches for gathering and entertaining and blue striped awnings over outdoor entertaining areas – all featuring within this Northern Beaches master home.
Classic Hampton's style usually involves either a weatherboard or rendered exterior and for this property, the best choice was a render.
Seaforth Interior Coming Together Now
We usually have an in-house interior designer who will guide and help your interior ideas come to life. Our interior decorating team helps to make a house a home with ideas that range from which exterior colour to choose, or which tap wear or door stop is currently on trend. We have you covered from all angles.
On this occasion, the client handled the interior selections themselves which we supported in its entirety. Working so intimately with the client gives us a clear understanding of their expectations and how we can still provide the finished home on time. As you can see from the photos in the Seaforth House gallery , the interior design looks amazing!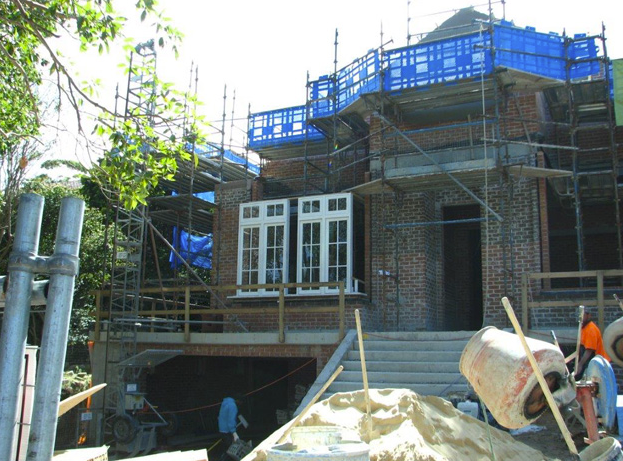 With the exterior features (for the most part) done, it is time to start on the inside of this home build. For Part III, we will concentrate on the art and science of enhancing the interior style to give it that modern Hampton style feel flowing through to the interior. The transition from having exposed wiring and unfinished plumbing to an almost fully-furnished home will come to light next month.
Our Value As A Custom Home Builder
Here at Chateau Architects + Builders, we aim to make your life during the building process as easy as possible. Our process involves a team of professionals who work as one from the outset, from demolition, to that final coat of paint in the living area! This synergy of everyone working together ensures that optimum results are achieved for our clients.
We have built a solid reputation as Sydney's best value master builder. Our secret to success is that we have very carefully crafted a team or architects, cost consultants and builders focused on providing you with a straightforward, transparent and better value option for the creation of your dream home.
Contact Chateau Architects + Builders today if you're inspired by this Hampton's Style Seaforth House!