Seaforth Story: Part I
29 November 2018
We thought we would share the unique tale behind the building process for our stunning Seaforth House. This master build was unique in more ways than one – the architecture style and the challenges in finding the perfect parcel of land to build on.
The family believed that to build their dream home they needed Chateau's mastery to create a very classic, Hamptons style to support their growing family in Sydney's Northern Beaches.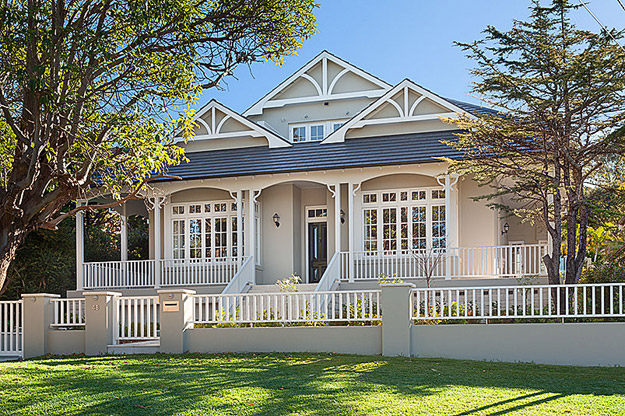 Planning The Dream Home
To give you some context, our client is a husband and wife, with two children who had their eyes firmly focused on purchasing their dream home. They attended a number of auctions in the Northern Sydney area with one home catching their attention in particular - a custom home built by Chateau Architects + Builders!
Long story short, the young family missed out on that particular auction but did manage to reach out to us at Chateau to potentially build their dream home together.
Our architects sat down with the family to discuss the architectural styles they had in mind as well as the primary features to be included in the design.
It was at this exact moment that they all became part of the Chateau family.
The husband and wife were patient in finding that perfect parcel of land required to build a feature-laden master home. They respected our expert opinion from Day 1 which assisted the flow of the process so we could start building as soon as we had access.
The family saw a future within the Northern Beaches, especially at this location where they had stunning water views, minutes to local schools, the beach and a short drive to the city of Sydney.
Our client needed to plan ahead, so they wanted to include separate living zones within the property, a kitchen with all the bells and whistles, manicured gardens, a pool, outdoor entertaining spaces and even a putting green!
Our client seemed to have a clear vision of their dream home and what they dreamed of including. There were some site limitations which challenged us like never before, however we were able to present our clients with their vision, turned into reality through our experienced and skilled architects.
Site Limitations
The property itself had a slight slope which wasn't necessarily a challenge but it certainly was something to consider for not only drainage but also the structure for the foundation of the home.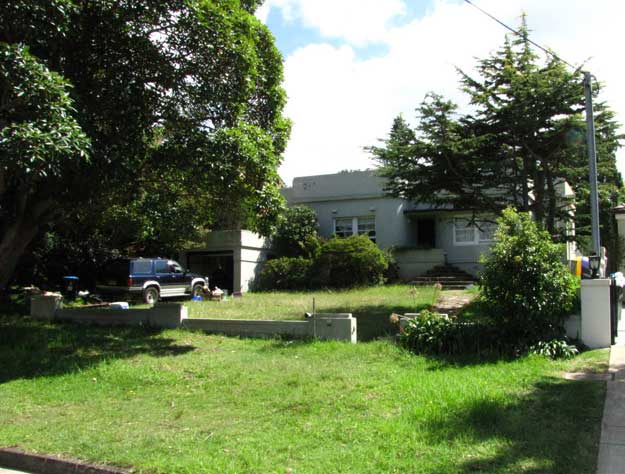 For drainage purposes, runoff needs to be directed towards the road as you can see in the plans below, that it shouldn't have been too much of an issue. However, with our clients wanting so many features packed into its 1226sqm block it made drawing up the 'perfect plan' challenging to say the least!
Architectural Style
Our clients wanted a traditional design with a quality feel since they planned to live in it for many years to come. The requirements were that it needed to meet their needs as a home for a growing family and quality double brick with a solid concrete slab construction.
The classic Hampton appeal of a white picket fence with very traditional finishes – inside and out. Classic yet exclusive is how we would describe this architectural style.
We had high expectations from our client – they wanted the very best! It is a full double brick design with the main focus of the design being the detailed high-end finishes both inside and out. Our clients also wanted the latest mod-cons and the highest quality finishes available at the time of the build.
This project tested our technical knowledge like no other home had in the past. We fit many, many features into this striking home while managing to keep that spacious feel a luxury residential build seems to have.
Architectural Plans
Our in-house architects at Chateau put together some final drawings of the custom home for our clients to sign off on. The plans are then submitted to the local council for approval. After approval is granted from council we can start the build. We will begin with clearing the block if there is an existing dwelling, otherwise we will begin with the excavation process as soon as possible to get that ball rolling!
Chateau takes the stress away from our clients, so the entire process of building your dream home is so much easier for you, our client. More often than not, council negotiations can be lengthy, time consuming and emotionally tiring for anyone submitting plans. This is where Chateau Architects + Builders take control of the process so you don't have to stress when you submit plans for approval.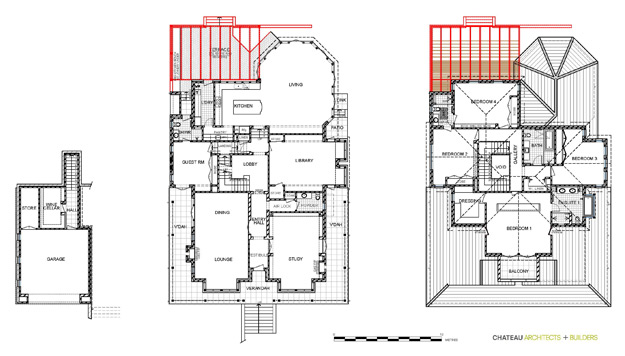 At Chateau Architects + Builders, our process involves a team of quality professionals who work as one from start to finish. Having a vacant block of land makes the process somewhat simpler, however we take care of it from the first contact from the client right through to that final coat of paint.
We take pride in our work, not only because we love what we do - but we also want our clients to feel as comfortable as possible during the entire process - that is what makes us Chateau Architects + Builders
If you would like to know more about our recent home builds, you can look under Recent Projects on our website or call us on (02) 9634 6888.