Top 4 Tips For Keeping Those Entertaining Areas Toasty This Winter
12 June 2018
What seemed like an endless summer was short-lived three weeks ago when cold air from Antarctica brought several days of chilly, wet and windy conditions across the Eastern seaboard of Australia. With Sydney expecting some more rain before finally clearing up - it might still be time to consider bringing out those woolly jumpers and electric blankets!
Weather is all too often unpredictable. You just never know when a chilly cold front will roll on in! We can often find ourselves unprepared for the winter months because the cold weather seems to creep up on us all so suddenly. Fortunately for you, we have some trendy ideas to keep you warm while relaxing on your alfresco dining area or while entertaining guests on a weekend!
OUTDOOR GAS HEATERS
One of the most effective ways to stay comfortable and warm in that patio at home is with an outdoor gas heater. Most of which are portable and extremely easy to use once you have a gas bottle connected. They are superb at keeping a smaller area warm during the following cooler months of June and July. They will be here before you know it!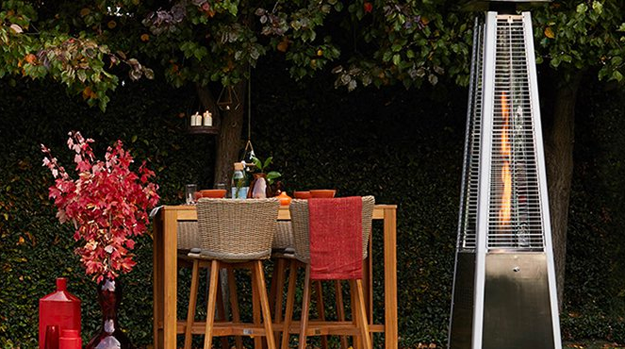 You should choose an appropriate heater for your space. A smaller, more compact unit may be better suited for a gable patio, for example. Freestanding gas-powered heaters are portable and come in a variety of designs and styles including floor and table top heaters. A handy thing to note is that these heaters can be stored away in warmer months, allowing more space for your guests.
ELECTRIC PATIO HEATERS
Have you heard of 'Heatstrips'? According to their website, they are a range of stylish, premium, high-intensity electric panel heaters. The slimline heating strips are off-white in colour to match the off white colours of walls or ceilings that it is mounted to. Heatstrips are cost-effective solutions for heating any open indoor area or outdoor entertaining area, whether it be your home or a café you own!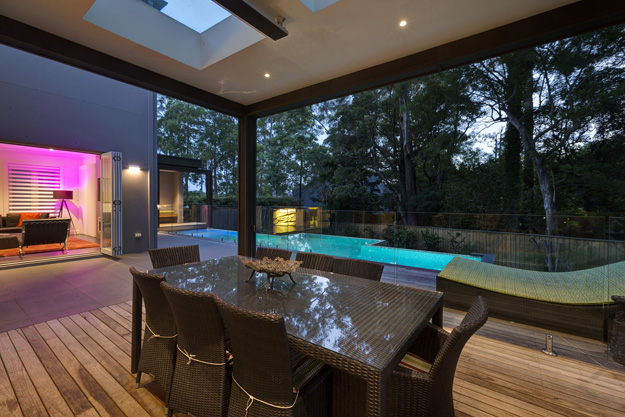 They seem perfect for installing in patios, BBQ areas, verandas, courtyards and alfresco dining areas as long as the area is protected and undercover. They must be hard-wired in so placement is key!
OUTDOOR FIRE PITS/FIREPLACES
The romance of an open fire does wonders for entertaining guests. They just seem to create the perfect ambience and atmosphere for social interactions and allowing conversations to flow.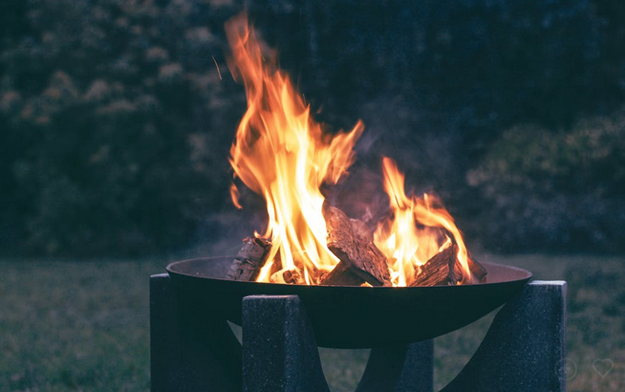 When thinking about purchasing a fire pit you need to consider design, shape and size. They need to be places on a flat, even and non-combustible surface such as patio pavers or tiles and a reasonable distance away from the home or any combustible materials. With a range of styles, you really do need to choose a fire pit which suits the area it is warming up. Fire pits are generally freestanding while fireplaces are mostly built-in, needless to say, both come in a variety of designs to suit outdoor spaces, including table-top and ground based options for your home.
As long as you have an area suitable to host a fire pit or fireplace, it can be the most affordable option to get started. Of course you need to purchase the proper fuel and you'll need to store this wood in a dry, protected place out of the weather.
PIZZA OVENS / BBQ SETUP
Believe it or not, the heat coming from pizza ovens after cooking several delicious homemade pizza's can provide warmth for you and your family. We have installed many luxurious barbeque setups over the years in our custom homes but there are some more affordable options available from home department stores like Bunnings, Barbeques Galore or Harvey Norman.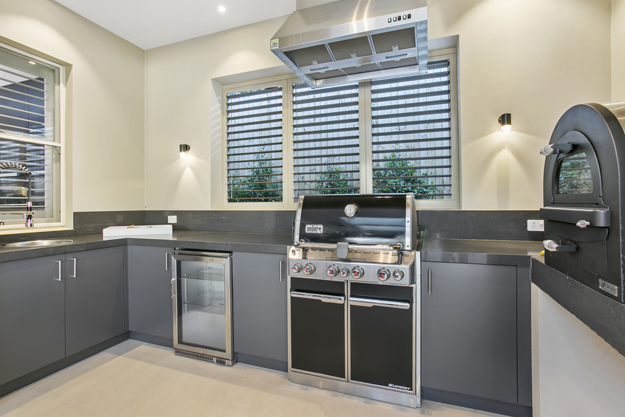 Visit our North Wahroonga House Gallery for some heating inspiration.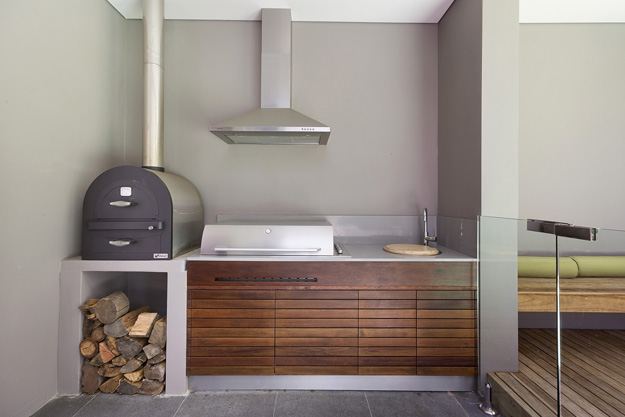 There you have it - entertaining in winter doesn't have to be taken inside when it is a beautifully sunny day outside. In our master built homes, we focus on more permanent solutions for our clients such as premium barbeque areas or permanent electric patio heaters. There are many options available, so make sure you choose wisely.
If you are considering having a custom built home one day, speak to us at Chateau Architects + Builders today!